Timothy Swartz
M.S. Student in Natural Resources & Environmental Sciences
Curriculum Vitae (PDF)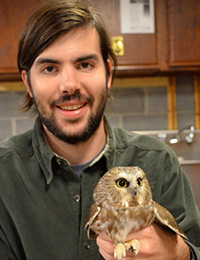 Education
B.S., Biology, Messiah College (2015) - magna cum laude
Research Interests
As a greater portion of the Earth's surface is altered for human use, populations of native plants and animals have suffered considerable declines. As a result, it is increasingly important that we reconcile human activity and economic development with the preservation of other species. I am particularly interested in understanding how wildlife utilize anthropogenic habitats in altered landscapes and how management of those habitats affects the composition of wildlife communities. My research focuses specifically on farm ponds, millions of which have been constructed in agricultural landscapes throughout the Central US. I am studying how the structure, age, and management of ponds in rural southern Iowa affect the amphibian communities in the region.
Personal Interests
In our free time my wife and I enjoy quite a few diverse outdoor activities including camping, hiking, kayaking, herping, birding, and foraging for wild plants and mushrooms. When cold weather keeps us inside, we can usually be found curled up with good books and our mischievous black cats, Po and Po-boy.
Project
Local and Landscape Factors Affecting Amphibian Communities in Human-constructed Wetlands
Select Publications
Nelson, S.B., J.J. Coon, C.J. Duchardt, J.D. Fischer, S.J. Halsey, A.J. Kranz, C.M. Parker, S.C. Schneider, T.M. Swartz, and J.R. Miller. 2017. Patterns and mechanisms of invasive plant impacts on North American birds: a systematic review. Biological Invasions. 19(5): 1547-1563.

Swartz, T.M. and J.R. Miller. (2016) Geographic distribution: Pseudacris crucifer. Herpetological Review. 47(4): 624.

Swartz, T.M. and J.R. Miller. (2016) Geographic distribution: Thamnophis radix. Herpetological Review. 47(4): 632.

Swartz, T.M., E. Stuart, D.K. Foster, and E.D. Lindquist. (2016) Testing Rapid-Assessment Models for the Conservation of Woodland Vernal Pools in South-central Pennsylvania. Northeastern Naturalist. 23(3):339-351.
Select Presentations
Swartz, T.M. and J.R. Miller. Farm ponds provide habitat for diverse amphibian communities. Ten Years of Research in the Grand River Grasslands: Key Findings and New Directions, Graceland University, Lamoni, Iowa. June, 2017. (oral presentation)

Swartz, T.M. and J.R. Miller. Amphibian communities of human-constructed ponds. 19th Annual Symposium of the Graduates in Ecology and Evolutionary Biology at University of Illinois at Urbana-Champaign, Urbana, Illinois. February, 2017. (oral presentation)

Swartz, T.M. and E. Stuart. Testing rapid assessment tools for the conservation of vernal pools in south-central Pennsylvania. 12th Annual School of Science, Engineering, and Health Symposium, Messiah College, Mechanicsburg, Pennsylvania. May, 2015. (poster and oral presentations)
Swartz, T.M., and E. Stuart. Testing rapid assessment tools for the conservation of vernal pools in south-central Pennsylvania. Spring Research Symposium, Messiah College, Mechanicsburg, Pennsylvania. May, 2015. (poster and oral presentations)
Contact