Restoration Ecology in a Working Landscape
Since European settlement, grasslands in the central U.S. have been greatly reduced in area and degraded by human activities. As a result, populations of many native species that depend on grassland habitats have experienced steep declines. Current land use practices on grasslands that remain tend to reduce the temporal and spatial variability that was characteristic of these landscapes historically and that is critical for some wildlife species. This homogenizing effect is often due to over-grazing, but also results from the uniform application of fire on some public lands. Recently, a fire-grazing model has been proposed that is intended to maintain or restore such variability. This model assumes that free-ranging herbivores will selectively graze patches that have been recently burned (hence the term "patch-burn grazing"). As spatially discrete fires are applied to the landscape over time, the result is a patchwork or shifting mosaic of habitat structure and composition that more closely approximates historical conditions.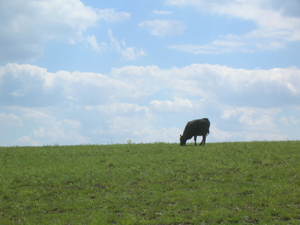 Our multi-disciplinary team is conducting research on the application of the fire-grazing interaction in a working landscape – that is, a landscape in which conservation objectives must be integrated with economic goals.Our study area is the Grand River Grasslands, encompassing approximately 28,350 ha (70,000 ac) in southern Iowa and northern Missouri. The area was historically dominated by tallgrass prairie, but now comprises a mosaic of grasslands and woodlands, with some row-crop fields in lowland areas. Here, nature reserves are interspersed among private lands which are largely dedicated to agriculture. Although the latter are still by-and-large owned by long-term residents, recent data indicate that private parcels are increasingly being purchased by non-resident and recreational landowners, suggesting the potential for substantial shifts in future patterns of land use. Our experimental studies focus on the response of grassland birds, vegetation, and invertebrates to patch-burn grazing. We are also examining opportunities and barriers to enhancing conditions for native plants and animals on private lands in the region. For more details, please visit the project web site.
Collaborators: Dr. Dave Engle, Dr. Diane Debinski, Dr. Lois Wright Morton
Funding: Iowa Department of Natural Resources, USDA National Research Initiative, Joint Fire Sciences Program, Leopold Center for Sustainable Agriculture, National Fish and Wildlife Foundation
Related Projects: